BEST FILMS OF 2015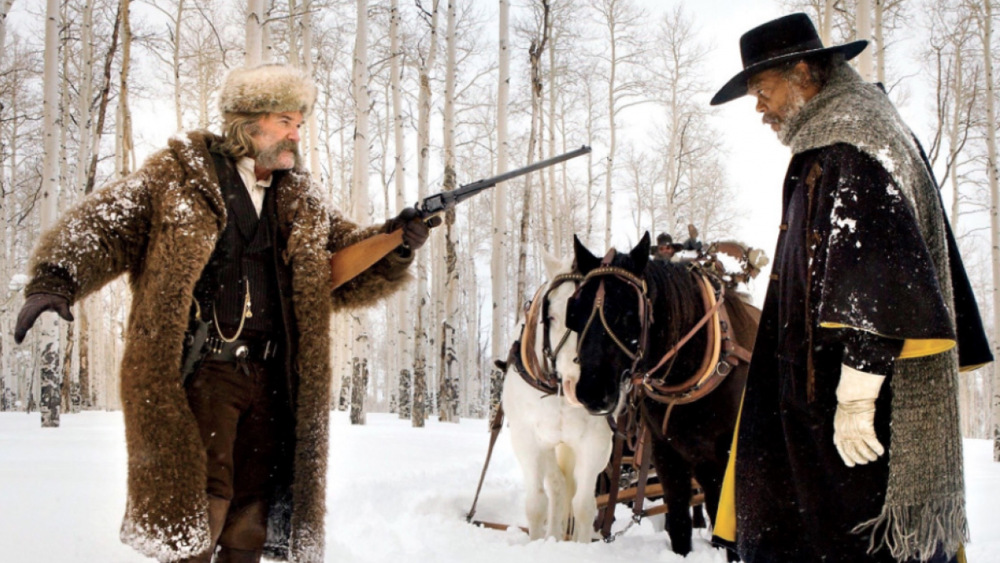 HATEFUL EIGHT (Dir. Quentin Tarantino)
Masterclass directing with a powerhouse cast. Reservoir Dogs meets Django Unchained filmed in a beautiful 70mm cinemascope. What more could you ask for?
CARTEL LAND (Dir. Matthew Heineman)
Easily the most interesting documentary this year. A raw and brutal look about the Mexican cartels vs vigilantes that protects the borders. It's frightening and horrible most of the times, definitely not a fun watch, but an absolute important piece of filmaking.
IT FOLLOWS (Dir. David Robert Mitchell)
A good old-fashioned horror with impressive storytelling and Carpenterian's '80s scoring. It's all about claustrophobic fear and paranoia. A rare gem.
WHITE GOD (Dir. Kornél Mundruczó)
A hidden gem from Hungarian director, Kornél Mundruczó. White God is part horror and part drama, and a must see for anybody who owns a pet. Beautiful and bold, not an easy film to watch.
BONE TOMAHAWK (Dir. S. Craig Zahler)
This amazing debut from novel writer S. Craig Zehler is a neo-cannibal-western-thriller-comedy. Yep, this is like Cannibal Holocaust set in the western frontier lands. Violent, frightening and had a few funny moments too. This is not your Roy Rogers or John Wayne type of western. Easily one of the most frightening western film, ever.
FORCE AWAKENS (Dir. J.J. Abrams)
An exciting and nostalgic crowd-pleaser, J.J. Abrams really know how to attract new fans and please the older fanboys too. The Force really awakens on this one.
INSIDE OUT (Dir. Pete Docter)
A psychology lesson for both children and adults, Inside Out was probably the most important Pixar film to date. A melancholic visual treat and a fun ride to watch with your family. A Pixar perfection.
TURBO KID (Dir. George Miller)
Another great independent film with bravado! A dystopian action-adventure in a world where water is hard to find. The settings and violent gore will apeal to B-movie aficionado and Mad Max fans.
EX MACHINA (Dir. Alex Garland)
If Blade Runner is a psychological thriller, it would be Ex Machina. It's another film about machines with human ambitions, Starring Poe Dameron himself as the mad scientist.
SICARIO (Dir. Denis Villeneuve)
Denis Villeneuve really outdone himself. His mystery thriller Incedies (2010) is a powerful film, and Prisoners (2013) does it job too. But Denis really shines on this one. One of the best depiction of the war-on-drugs type of film, that puts the US goverment and Mexican cartel in a no holds barred fight to the death. And of course the beautiful cinematography is done by none other than the master himself, Roger Deakins!!!
MAD MAX: FURY ROAD (Dir. George Miller)
A spectacular chase movie and a real visual eye-candy. Steals your breath every minute with all the brutal and crazy action-packed set pieces. With all the dangerous stunts and driving, this one will send The Fast & Furious drivers to the driving school. If you're not seeing this on the big screen, you're missing out on one of the main reasons why people go to the cinema in the first place.
HONORABLE MENTIONS:
1. LOVE & MERCY (Dir. Bill Pohlad)
2. SLOW WEST (Dir. John Maclean)
3. SPOTLIGHT (Dir. Tom McCarthy)
4. REVENANT (Dir. Alejandro Gonzalez Inarritu)
5. THE ASSASSIN (Dir. Hou Hsiaou Hsien)
6. BRIDGE OF SPIES (Dir. Steven Spielberg)
7. WITCH (Dir. Robert Eggers)
8. COBAIN: MONTAGE OF HECK (Dir. Brett Morgen)
9. TAG (Dir. Sion Sono)
10. ANOMALISA (Dir. Charlie Kaufman)
11. STEVE JOBS (Dir. Danny Boyle)
12. THE TRIBE (Dir. Myroslav Slaboshpytskiy)
13. HOT GIRLS WANTED (Dir. Ronna Gradus)
14. A VERY MURRAY'S CHRISTMAS (Dir. Sofia Coppola)