Upgrade (Dir. Leigh Whannell)
A '80s style cyber-punk horror with so much gore to please the splatter fans. 2018 just got better with these '80s style horror throwbacks, and Upgrade was one of the finest.
Burning (Dir. Lee Chang-Dong)
Another story of vanishing women (adapted from Haruki Murakami short stories) and masterfully directed by South Korean artsy-auteur Lee Chang Dong? Count me in.
Sorry to Bother You (Dir. Boots Riley)
If you want a funny satire about anti-capitalism and proletarian call-to-arms, this is it. Think of this film as a blaxploitation version of "Office Space (1999)" with more social commentary.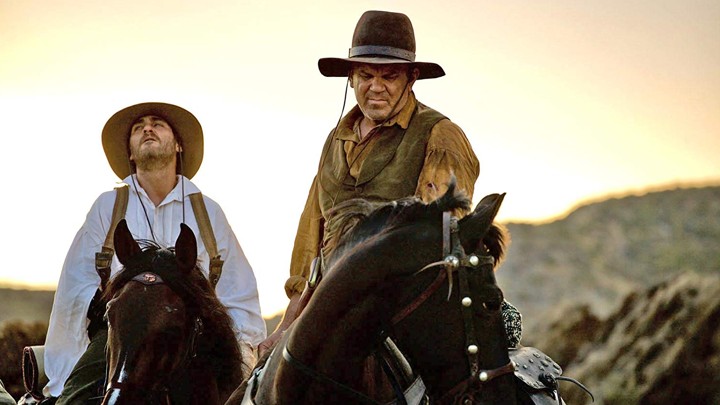 The Sisters Brothers (Dir. Jaques Audiard)
A delightful western-adventure that doesn't fit any genre. This piece has lots of laughs, dramas, even a horror aspect to it! Not your typical spaghetti-western, but a beautiful spectacle of filmmaking.
Leave no Trace (Dir. Debra Granik)
After 2010's Winter's Bone, Debra Granik returns with a story about isolation and trauma. About surviving without society. A tale of a father and daughter simply surviving in a forest. Ben Foster and McKenzie really played their parts well.
Blackkklansman (Dir. Spike Lee)
Another Spike Lee's joint. Relevant with today's racial tensions, this is a study of cultural and institutional racism in America. Lee tells the heavy theme with a light dark-comedy tone, pun intended.
Deadpool 2 (Dir. David Leitch)
Who knew Ryan Reynolds is a brilliant auteur? Although Leitch is directing, Reynolds does the heavy lifting by producing, writing and acting in the movie. This movie has heart and also a pure comedy genius. Fuck the Avengers.
Blindspotting (Dir. Carlos Lopez Estrada)
Another dark comedy about racism, police brutality and gentrification that's relevant with all the police shooting going on in America. Both leading casts are in top of their game. This movie has so much style and wit.
Mission Impossible: Fallout (Dir. Christopher McQuarrie)
Simply put the best action film of the year. Well choreographed fights and epic set-pieces. Tom Cruise also outdone himself again by doing all the crazy stuntwork by himself.
A Quiet Place (Dir. John Krasinski)
One of the most innovative horror films we've ever seen. A simple excercise about shutting up in a movie theatre. No cheap theatrics or jumpscares, just pure dread and fear. To think John Krasinski comes from doing comedy like The Office, he really goes a long way.
The Night Comes For Us (Dir. Timo Tjahjanto)
This whole film is just a great big fighting set pieces compilation, compiled and curated by the best in the industry right now. Timo really knows how to direct a kinetic action film like this (with teh perfect gore-levels). The casting is perfect and memorable: from Joe Taslim and Iko Uwais fractured friendship, Zack Lee's big brute, Dian Sastro & Hannah Al Rashid killer tag team, Salvita Decorte as a love interest, to Julie Estelle who probably should get a solo movie. Who can forget the coke-head butcher played brilliantly by Revaldo? Too bad they didn't put Epy Kusnandar scene in the original cut.
Mandy (Dir. Panos Cosmatos)
We thought Panos Cosmatos can't make anything weirder than Beyond The Black Rainbow, but, here he is directing Nicolas Cage in a chainsaw fight.
You Were Never Really Here (Dir. Lynne Ramsay)
If you want to see Joaquin Phoenix goes ape-shit and smash another person head with a hammer, this is the film.
First Reformed (Dir. Paul Schrader)
It's probably a big sin if Ethan Hawke's stand out performance doesn't get an Oscar this year. Paul Schrader deserves an Oscar too with a film this delicate. This is like Taxi Driver set in a church.
Searching (Dir. Aneesh Chaganty)
Aneesh Chaganty's Searching is a brilliant police-procedural detective thriller with an innovative twist: the whole movie takes place in a laptop and desktop computer. Modern filmaking has no limits.
Mid90s (Dir. Jonah Hill)
A raw and honest time-machine to the good ol days of the '90s: Super Nintendo, Playstation 1,Wu-Tang Clan, Pixies, Girl/Chocolate Skateboards, cassette mixtapes, Sony Discman, Air Jordan's and no internet. One of the best nostalgic coming-of-age film about skateboarding culture since Larry Clark's 1995 "Kids".
Dogman (Dir. Matteo Garrone)
A bleak film (as usual by Matteo Garrone) set in modern rural Italy. Perfectly crafted crime-drama about a dog's groomer who moonlights selling cocaine. Marcello Fonte performance is teeth clinching. A hyper-realistic urban tragedy.
Hereditary (Dir. Ari Aster)
This is easily a modern classic in horror. A pure aesthetic in classic horror setup. Effective in it's execution and reminds you of old classics like Rosemary's Baby (1968), The Shining (1980), and Exorcist (1973) in terms of pace and style. No jumpscares, just pure performance and slowly-building tensions, meticulously crafted by Ari Aster. You'll still feel the goosebumps and scares after the credits have ended.
Roma (Dir. Alfonso Cuaron)
Not to be mixed with Federico Fellini's 1972 Roma. This one is a very poignant yet simple story of a family through the eyes of the family's maid. Brimming with lively characters and beautiful cinematography. Don't worry this is not a telenovela, this is simply Alfonso Cuaron's magnum opus.
Widows (Dir. Steve McQueen)
Masterclass directing with a power-house ensemble of cast. This is the perfect heist-movie. This is Ocean's 8 with steroids. Simply the best crime movie of 2018.
HONORABLE MENTIONS:
1. The Old Man and the Gun (Dir. David Lowery)

2. The Mule (Dir. Clint Eastwood)

3. Shoplifters (Dir. Hirokazu Kore-eda)

4. Suspiria (Dir. Luca Guadagnino)

5. Incredibles 2 (Dir. Brad Bird)