a dystopia is a fictional society that is the antithesis of utopia. characterized by an oppressive social control. it's an imaginary place or state in which the condition of life is extremely bad: deprivation, oppression, or terror. also: massive dehumanization, totalitarian government, rampant disease, post-apocalyptic terrains, post-natural disaster, cyber-genetic technologies, societal chaos and widespread urban violence. these are some of the common themes in dystopian films, which often construct a fictional universe and set it in a background which features scenarios such as dehumanizing technological advancements, man-made disasters or class-based revolutions. here's some of my favourite and greatest films that represents dystopia..
TRON (1982) - STEVEN LISBERGER
---
one of the first films from a major studio to use computer graphics extensively before it's time, tron gained cult-status very quickly upon it's release, but still maintain it's coolness by being a low-profile underdog film (produced by a big studio: disney). set in an alternate reality where software has artificial intellegence and smarter than most human scientist, the world is threatened by these new softwares A.I. called "master control program", an authoritarian software who pursue to dominate the human world, and only 3 hackers can save the day. BOO YAH!
THE MATRIX (1999) - WACHOWSKI BROTHERS
---
nowadays, staying dumb is like becoming cypher in the matrix: it's like choosing the blue pills over the reds. i think these analogies are very clever, and this cyberpunk saga also incorporates many influences, ranging from wire-fu, spaghetti westerns and japanese manga. even neo character reads a book in his apartment called "simulacra" by jean baudrillard. to sum up, the matrix is a metaphorical simulacrum situation whereas humans can't differentiate between reality and fantasy, and pays a homage to religion and existensialism philosophy. oh, and the bullet-time scene are so stolen from vincent gallo's bufallo '66. ha.
TERMINATOR (1989) - JAMES CAMERON
---
before avatar & titanic, there was arnold. nuff said about this one. the best one of the series which still maintains it's futuristic/neo-noir genre. i'm kinda rooting for the bad guy here (terminator arnold), and when the robot head nearly explodes, it's kinda sad. (in diehard, i also rooted for hans gruber, famous international terrorist: he should be the title character because he 'died hard').
ALPHAVILLE (1965) - JEAN LUC GODARD
---
an american private-eye is rocketed through space into a city run by a dictator scientist. lemmy arrives in alphaville, a futuristic city on another planet and finds his very american character is at odds with the city's ruler, an evil scientist named von braun, who has outlawed love and self-expression.
JUDGE DREDD (1995) - DANNY CANNON
---
after the outlaws and riots are spreading into uncontrollable havoc, the government are turning the country into a nightmarish police-state. then the police creates a special forces: street judges; who have the power to act as judge, jury, and executioner of criminals. this movie alone is worthy by the quote stated by stallone: "I AM THE LAW!" *bang* *bang*

DELICATESSEN (1991) - JEAN-PIERRE JEUNET
---
set in the future, animal meat are scarce and some people are becoming cannibals. the plot revolves around a cannibal butcher who fights against an anarchist-vegan rebels who lurks in the sewer. hard to believe that this depressing-dystopia slash dark-comedy stuff is coming from the makers of amelie. oh, this was BEFORE amelie. the guy got soft after this.

AKIRA (1988) - KATSUHIRO OTOMO
---
this epic cyberpunk masterpiece is one hell of a dystopian ride. tokyo was destroyed by what was believed to be a new type of bomb, triggering World War III. 31 years later, in 2019, neo-tokyo has arisen from ashes under japan's new political system; but the glittering city is built on foundations of poverty, ignorance and despair. it's a 2 hour ride of bike gangs, anti-government activists, greedy politicians, irresponsible scientists and a powerful military leader. if you haven't seen it yet, it's your loss.

THE RUNNING MAN (1987) - PAUL MICHAEL GLASER
---
adapted from a stephen king novel, the future is over-populated by criminals and there are simply not enought prisons. so, the goverment and the media creates a game show/quiz, in which convicted felons race for their lives in decimated L.A. in hopes of a pardon… or die.



DUNE (1984) - DAVID LYNCH
---
spawned great PC game and based on a novel adaptation of the same name by frank herbert, dune is an epic tale of geo-politics, love, war, deception and complex-interdependency. the usual stuff. there are several groups of race, and they want control of "spice", the ultimate resource on the planet. poor on box offices, but gained cult status and critically acclaimed. the score was done by brian eno.



THE FIFTH ELEMENT (1997) - LUC BESSON
---
bruce willis plays an unlucky taxi driver, the usual: wrong place, at the wrong time-type; only to to found that the world is headed into a big asteroid, and only leelo (milla jo) can stop it. gained cult status because milla jovovich is wearing an ugly bandage-like cloth designed by jean-paul gaultier. fag. the action sequences are great though.


DEATH RACE 2000 (1975) - PAUL BARTEL
---
in the year 2000, hit & run is no longer a crime.. it's a NATIONAL SPORT. in a boorish future, the government sponsors a popular, but bloody, cross-country race in which points are scored by mowing down pedestrians–with bonus points for the elderly! this is like speed racer on steroid (and acid). plus, david carradine is in the lead role.

ESCAPE FROM NEW YORK (1981) - JOHN CARPENTER
---

the island of manhattan has been turned into the world's largest maximum security prison, a place where the worst of humanity is sent to rot. only war hero turned felon snake plissken can save the day, and he is offered a simple deal for his work: save the president and live, fail to save him and die.


CODE 46 (2003) - MICHAEL WINTERBOTTOM
---
set in an eerily possible near-future, where cities are heavily controlled and only accessible through checkpoints. people cannot travel unless they have "papelles," a special travel insurance. Outside of the cities, the desert has taken over and shanty towns are jammed with non-citizens - people without papelles whose lives are severely restricted.



STARSHIP TROOPERS (1997) - PAUL VERHOEVEN
---
in the distant future high school kids are encouraged to become citizens by joining the military. what they don't know is that…. they'll soon be engaged in a full scale war against a planet of alien insects!!



V FOR VENDETTA (2005) - JAMES MCTEIGUE
---
fuck this film. the book was better. the film ending: feel-good movie happy ending & the world turned to be a better place. book ending: the houses of parliament is destroyed and bombed, plus a massive riot on london. see? the book was better in every aspect. except nat portman's bald head.



CITY OF LOST CHILDREN (1995) - JEAN-PIERRE JEUNET
---
an elderly guy kidnap little kids to steal their dreams. great settings and industrialization backdrop. again, it's hard to believe that this bleak-future slash dystopian nightmare is coming from the guy that brought you amelie.

12 MONKEYS (1997) - TERRY GILLIAM
---
the year is 2035 and humankind subsists in a desolate netherworld following the eradication of 99% of the earth's population, a holocaust that makes the planet's surface uninhabitable, and mankind's destiny uncertain. a group of scientists sent bruce willis, to go back to the year 1996, where he can unravel this apocalyptic nightmare.



GATACCA (1997) - ANDREW NICCOL
---
in the near future, where corporations screen their employees based on their genetic makeup, a man with a congenital heart condition tries to assume the identity of a former athlete with perfect genes in order to fulfill his dream of traveling in space. a neo-noir classic. ethan hawke at his best.



CHILDREN OF MEN (2006) - ALFONSO CUARON
---
a futuristic society faces extinction when no children are born and the human race has lost the ability to reproduce. england has descended into chaos. bummer.

THEY LIVE (1988) - JOHN CARPENTER
---
a construction worker is able to see the world as it really is: people being bombarded by media and government with messages like "stay asleep", "no imagination", "submit to authority". said to be the major influence on shepard fairey's obey giant.

A SCANNER DARKLY (2006) - RICHARD LINKLATER
---
in the future world, america has lost the war on drugs. 4 of 5 man are undercover-narcs and every phone conversation is monitored by the government. everyone is paranoid, caused by the "substance d" drug. another phillip k dick novel adaptation. god, this guy's must be so depressed writing all this stuff.

METROPOLIS (1927) - FRITZ LANG
---
people are divided into two groups: the thinkers–who make plans, yet don't know how to operate machinery, and the workers–who forward production without having any overview vision. when one man, a "thinker," dares to journey to the underground, where the workers 'slave away,' he's surprised at what he sees.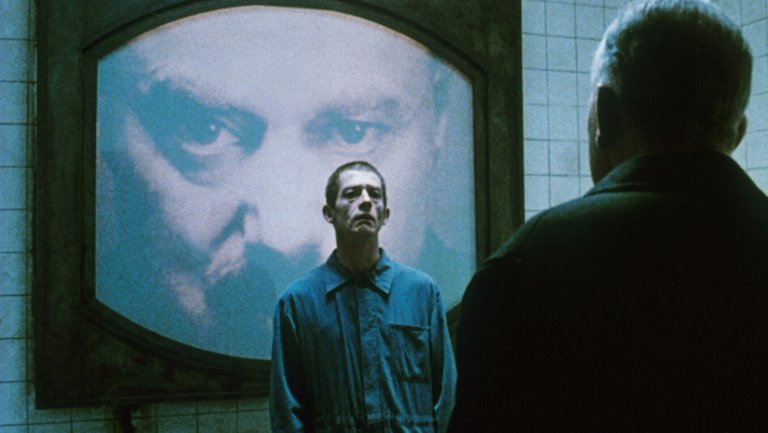 1984 (1984) - MICHAEL RADFORD
---
stunning screen adaptation of orwell's prophetic 1948 novel about a world in which the government completely controls the masses by controlling their thoughts, altering history and even changing the meaning of words to suit its needs.



WATCHMEN (2009) - ZACK SNYDER
---
a "superhero" movie about WMD, nuclear detterent theories, quantum physics, cold-war scare tactics, parallel-universe, time-travel, post-vietnam, moral dialectics, human-drama and character study. errr.. maybe this was not meant to be a superhero movie -ehm ehm- film afterall.



TOTAL RECALL (1990) - PAUL VERHOEVEN
---
what is reality when you can't trust your memory? paul verhoeven has done it again, and make a great dystopian classic based on (again) phillip k dick novel. arnold best film, where he actually acts. the matrix stole from this film too.



MAD MAX 2: ROAD WARRIOR (1981) - GEORGE MILLER
---

the first sequel to mad max takes place after nuclear war has destroyed Australia. 2 gangs fight for oil in the desert. post-nuclear wasteland holds-no-barred-action-adventure! mad max 1 is ok and mad max 3 is bad. this is the one you should watch!



SOYLENT GREEN (1973) - RICHARD FLEISCHER
---

massive unemployment, overpopulation (New York: 40millions!), poverty and depleted resources. sounds familliar? well, in this film, the only food left are wafers. green, yellow and red wafers called "soylent". everyday is a fucking riot. the ending is super-climax. FYI, in this film, hookers are called "furniture", and elderly people are called "books".

BRAZIL (1985) - TERRY GILLIAM
---

an orwellian dystopia, where everything is monitored by the government, and the earth is covered by pollution and billboards. brilliant humour and frightening imagery of the possible-future, where santa claus gives credit cards to kids, crazy bureaucracy at every aspect of our lives, and clever uses of analogy by the genius behind monty python. the soundtrack makes me shivers everytime i hear it.

ROBOCOP (1987) - PAUL VERHOEVEN
---

robocop includes larger themes regarding the media, massive unemployment, police-strike, gentrification and human nature in addition to being an action film. the massive unemployment is prevalent, being reported frequently on the news, as is poverty and the crime that results from economic hardship. nevermind the sequels, this paul verhoeven dystopian neo-noir is so good, that you want to buy robocop t-shirt later from e-bay. you don't like robots? fuck you. you don't like robocop? well.. fuck. you.


BLADE RUNNER (1982) - RIDLEY SCOTT
---

a neo-noir classic from phillip k dick novel adaptation: "do android dreams of electric sheep?". nasty femme-fatale, cool score by vangelis, and the best futuristic setting ever seen on films. fuck you, han solo. deckard is THA MAN. the best cyber-punk thriller ever made.